Shadow Riders & No Static
Tributes to The Marshall Tucker Band
+ The Music of Steely Dan
Saturday, March 4 | 8PM
Doors Open at 7PM
Reserved Seating: $ 19.50 – $15.50
+$3 Additional Day of Show
About The Shadow Riders

Bruce Marshall took up guitar in 1966 at age 12 when his father gave him his ¾ Kay acoustic. He grew up in a musical household, both parents and the 4 Marshall children were always singing, playing guitar and piano and their parents taught them vocal harmony at a young age. Like many of his peers, seeing the Beatles on Ed Sullivan was a watershed moment and Bruce absorbed the sounds from that era, especially vocal groups like The Rascals, Beach Boys, Everly Brothers and Buffalo Springfield. When he discovered the likes of Marvin Gaye, Stevie Wonder, BB King and Muddy Waters, Marshall developed a love of soul music and the blues.
He turned to music full time about a year out of High School with Whitecap, his first professional band. The Sudbury MA native honed his craft in juke joints and gin mills for 7 very formative years and about this time started writing his own music. In the early 80's Bruce Marshall and the Clue emerged, a five piece band assembled around a batch of original songs Bruce had written that touched on his love of R and B, Blues and Pop. The band developed a loyal following in NE and hit the road non-stop for most of the decade while headlining the top venues in greater Boston and beyond. The Clue put out a vinyl EP "Prove It" on ATM Records in '87, appeared on numerous compilation albums including "Boston Does the Beatles" and shared the stage with James Brown, Gregg Allman, Todd Rundgren, The Beach Boys, Kenny Loggins, Orleans and Hot Tuna, among others.
By 1989 Bruce had accepted an invitation to join the Toy Caldwell Band. Toy was the founder, lead guitarist and primary songwriter for the Marshall Tucker Band, one of the top groups in the country in the 70's. Caldwell started the Toy Caldwell Band shortly after leaving Marshall Tucker in '84 and 5 years later hired Bruce Marshall to sing lead, play keyboards and guitar. The band toured with Lynyrd Skynyrd, Charlie Daniels and The Outlaws when they weren't headlining their own shows and festivals.  During this time the band recorded a Bruce Marshall original "Welcome to the Human Race" with platinum producer Paul Hornsby and it appeared on Marshall's 2nd release in '92.
About No Static
Since 2004 the 10 members of No Static have been performing the music of the band Steely Dan. Over the years Dan lovers young and old have discovered and enjoyed the passion and precision that No Static brings to all of their performances. Appearing at a variety of venues both public and private, this talented band has earned the admiration and affection of critics and fans alike.
Indulge your senses in great food and dine at one of our on-site restaurants before the show! Click to make a reservation for dinner before the show at Seaglass Restaurant, or  Capri Seaside Italian Kitchen & Pizzeria.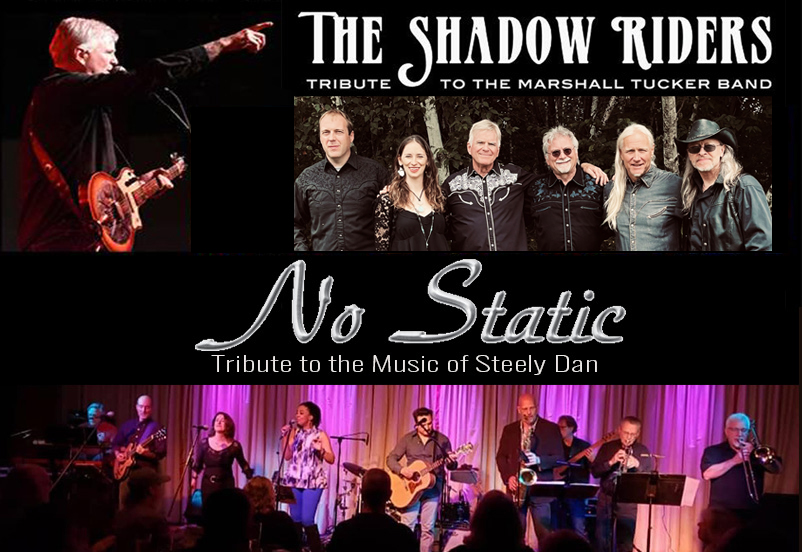 Tributes to The Marshall Tucker Band
+ The Music of Steely Dan
Saturday, March 4 | 8PM
BUY TICKETS