New Year's Eve Bash
Featuring The Fools
w/ Psychedelic Relics
Saturday, December 31
7PM Dinner | 9PM Show
21+ Only Event
Dinner & Show Ticket – $92
Doors at 7PM
Show Only Ticket $28
Doors at 8PM
Ticket Prices are +$5 Day of Show
ABOUT THE SHOW
A FUN-tastic New Year's Eve Celebration at Blue Ocean — The Fools, Optional Dinner Buffet, Champagne Toast, Party Favors and Midnight Balloon Drop!
Ring in the New Year with unforgettable fun at Blue Ocean featuring New England's best party band, The Fools.  The party features an optional dinner buffet, expansive dance floor, midnight champagne toast, party favors and a balloon drop.
Two types of event tickets are available:
Dinner + Show – Combo ticket includes a savory NYE Dinner Buffet served in the panoramic oceanfront Grandview Hall, on the upper level above Blue Ocean Music Hall.  Seats are reserved for ticketholders in both Grandview and Blue Ocean Music Hall.  Dinner tickets are limited.  Click here for the menu.
Show Only – Blue Ocean Music Hall doors open for concert-only ticket holders at 8PM.  Limited Reserved Seating and Standing Room Only tickets available.
Don't wait, tickets to this incredible celebration will sell fast!
GRANDVIEW HALL DINNER AND SHOW COMBO TICKET INFORMATION
Dinner Buffet Service – 7PM-8:30PM
Breathtaking ocean views, seating in our expansive, elegant upper level event space, and a first class dinner buffet create the perfect kick-off to your New Year's Eve night out. Space is limited. Click here for the Menu.
If you are purchasing a dinner/show combo ticket, you will be assigned to the same table number in both Blue Ocean Music Hall and Grandview Hall.  You must present your ticket for entry in each location.
Blue Ocean Music Hall regular menu service WILL NOT be available on New Year's Eve.
MIDNIGHT COUNTDOWN & CHAMPAGNE TOAST, PARTY FAVORS AND BALLOON DROP!
A midnight champagne toast for each 21+ guest and a festive assortment of New Year's Eve party favors will be distributed to each table.  Experience The Fools wild and crazy 2022 countdown with a midnight balloon drop over the expansive dance floor.  Please note:  Television broadcast of the ball drop in Times Square will not be available in the Music Hall.
Get Ready for a New Year's Eve you won't forget with New England's fun party band, The Fools!
ABOUT THE FOOLS
Sometime around 1975, deep in the Home of the Fried Clam, Ipswich, Massachusetts, a really fun bunch of guys who had a band called "The Rhythm A's" somehow changed and became The Fools. This is their story.
All entertainers have a gimmick, a shtick, if you will (even if you won't). The object of a Fools show was to blow real life out of all proportion and morph 'just another night out to see a band' into the most fun anyone had ever had — anywhere! Meeting with great success, it wasn't long before the lads were masterminding stage trickery, pratfalls, skits, themes, twisted audience participation, practical jokes, paybacks, big nights and even some colossal events. Then they discovered radio.
In 1979 "Psycho Chicken," X-rated parody of The Talking Heads' "Psycho Killer," exploded over the airwaves of Boston. The boys were so excited they followed up almost at once with another whopping hit — "It's a Night for Beautiful Girls." And the guys weren't the only ones to get excited. EMI Records signed the band and sent them right out to tour the U.S. with The Knack. The tour was a smashing success. Then, off to Miami to record the victorious debut album "Sold Out."
The 1980's saw the band through a storybook journey of mounting success and achievement. Adoring fans, media attention, the second album "Heavy Mental," touring the U.S. with Van Halen, massive "hometown" shows in Boston, TV appearances galore, European Tours with dizzying record sales, music videos and MTV. Then came the break with EMI. The band, alone and exhausted, retired to Cape Cod for a summer and bravely wrote their most successful album, "World Dance Party." Fueled by no less than four big radio tunes, WDP flew out of stores all across the nation. The title track "World Dance Party," along with a "Doo Wah Diddy" remake, "Life Sucks…Then You Die" and "She Makes Me Feel Big" all added up to a blockbuster of an independent release bringing in sales in excess of either 500,000 or 1,000,000 or 2,000,000 — depending on which band member you ask. Are they playing it up? (Or playing it down.)
Record-breaking radio airplay, new videos with heavy MTV play, new releases and constant touring propelled The Fools through the mid-1990's. Now in the new millenium they're at it again. Do not miss an opportunity to experience the spectacle and splendor, the legendary bombast, yes the shock and the awe — The Fools!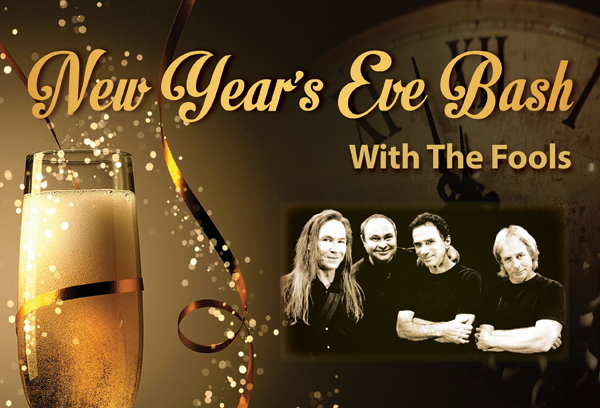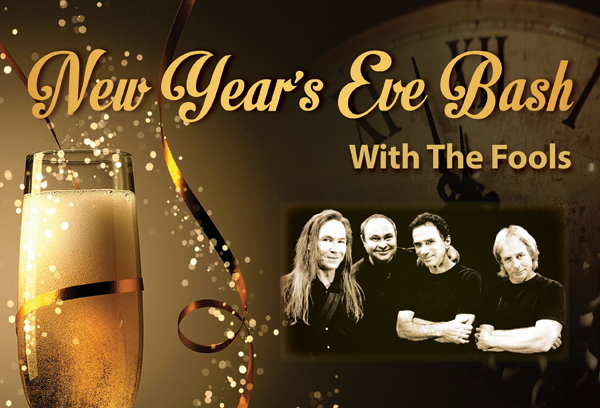 Featuring The Fools
w/ Psychedelic Relics
Saturday, December 31
7PM Dinner | 9PM Show
BUY TICKETS